ELM readers may remember our October 6th post detailing a study that found gas flaring actually releases much more methane into the atmosphere than previously thought. The emission of methane gas, given it is a potent greenhouse gas, contributes significantly to global warming.
Flaring is the process of burning excess natural gas at a well. Venting is the direct release of natural gas into the atmosphere. While some amount of venting and flaring is expected during oil and gas exploration and production operations, venting and flaring can be minimized when operators take reasonable precautions to avoid waste.
Perhaps that study by Genevieve Plant resonated with the Interior Department, because announced earlier this week were new rules from the Bureau of Land Management (BLM) to muzzle the waste of natural gas during the production of oil and gas on federal public and tribal lands. The proposed rules would call for the creation of almost $40 million annually in additional royalties for the American public and help curb the billions of cubic feet of methane gas currently being wasted through venting, flaring, and leaks.
The proposal aims to both tighten limits on gas flaring on public and tribal lands while also forcing energy companies to do a better job of detecting methane leaks that add to Earth-warming greenhouse gas pollution.
The proposal comes on the heels of a much more comprehensive plan to crackdown on methane emissions released on November 11th by President Joe Biden. President Biden announced his November 11 plan while attending COP27, the global climate conference that recently concluded in Egypt. As expressed by President Biden, his administration will start taking aim at the oil and gas industry for its role in global warming.
By releasing these proposed new rules on Monday, "the Biden-Harris administration has taken unprecedented action to tackle methane emissions and support a clean energy economy – this proposed rule will bring our regulations in line with technological advances that industry has made in the decades since the BLM's rules were first put in place, while providing a fair return to taxpayers," said Secretary Deb Haaland in a statement.
Despite the increasing presence of electric vehicles in the United States, venting and flaring activity from oil and gas production on public lands has grown significantly in the past few decades. The Department of Interior projects that between 2010 and 2020, total volumes of natural gas lost to venting and flaring on federal and tribal lands averaged about 44.2 billion cubic feet per year. This number dwarfs the 11 billion cubic feet estimated as lost due to the same activities in the 1990s.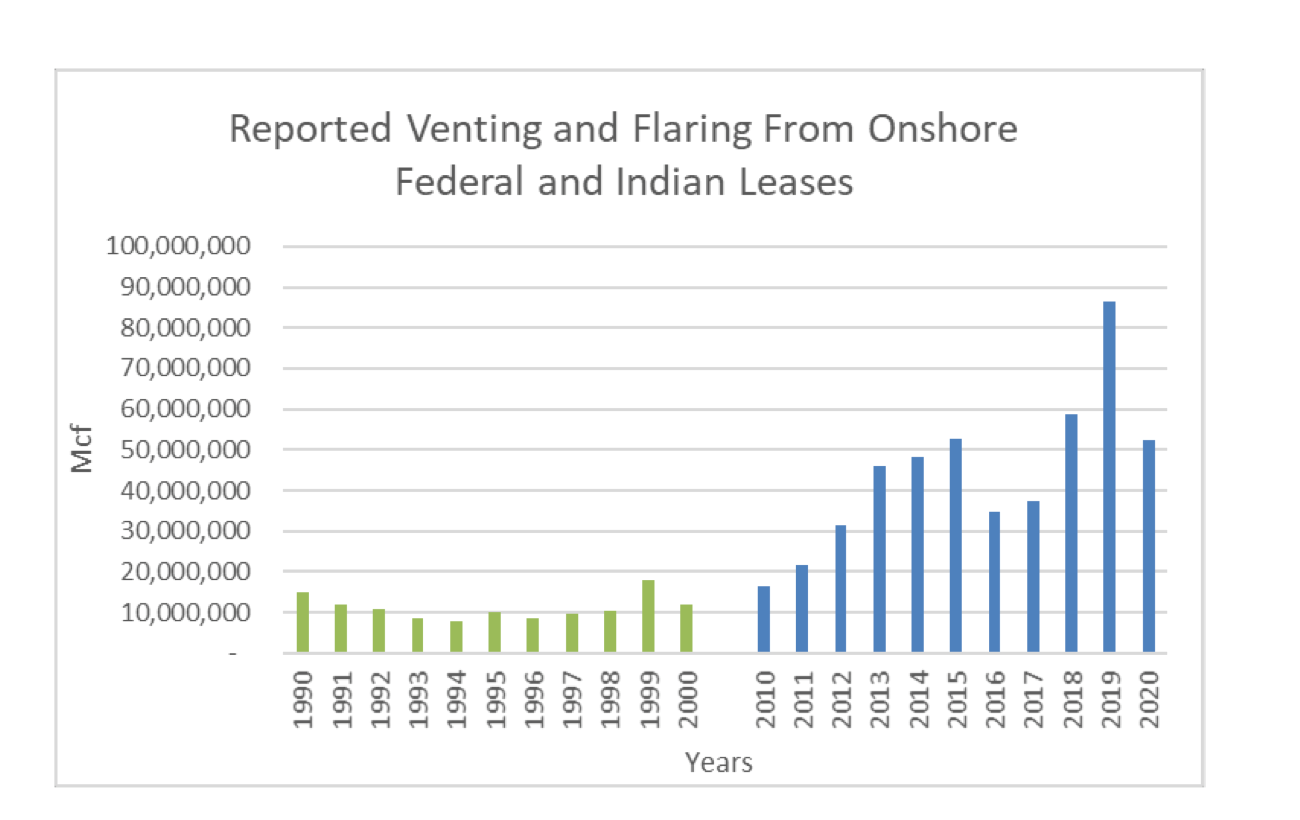 BLM Director Tracy Stone-Manning said, "no one likes to waste natural resources from our public lands. This draft rule is a commonsense, environmentally responsible solution as we address the damage that wasted natural gas causes. It puts the American taxpayer first and ensures producers pay appropriate royalties."
The proposed rule aims to limit venting, flaring, and/or leaks from oil and gas operations in four ways:
1. Establishing Flaring Limits – The proposed rule would put time and volume limits on royalty-free flaring. This includes a monthly volume limit on royalty-free flaring caused by pipeline capacity constraints, which is viewed as the primary cause of flaring from public and tribal leases.
2. Requiring Leak Detection Plans – The proposal would require oil and gas operators to establish and maintain a Leak Detection and Repair program for their operations on any public or tribal lands.
3. Technology Improvements – The proposal requires operators to start using so-called "low-bleed" pneumatic equipment, as well as vapor recovery for oil storage tanks. These technology improvements have been shown to reduce the amount of methane gas lost during venting and flaring.
4. Creating Waste Minimization Plans – Potential oil and gas lease applicants would have to put in place waste-minimization plans showing the capacity of available pipeline infrastructure to take the anticipated associated gas production. This element of the proposed rule gives the BLM the power to delay, or even deny, a lease permit to drill if it appears that excessive flaring cannot be avoided.
Look for the proposed rule to be published in the Federal Register in the coming days. The draft Environmental Assessment and other supporting documents will be available on www.regulations.gov. Public comments will be accepted by the BLM at that same website for 60 days after the publication of the rule. The final rule would then presumably come out sometime in 2023.